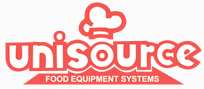 The Leader In Designing,
Importing And Manufacturing
High Quality Equipment
FREE BAKERY EQUIPMENT ADVICE
But Why Free? Is it Really Free?
Yes. It IS FREE! No gimmicks. No tricks. Unisource believes in creating relationships with their customers. Your success is our success. We want to be a part of your dream. We will help you start your dream business or expand what you already have, and maximize your profit with no costly mistakes!

Purchasing and over-spending on the wrong equipment can set your business back thousands of dollars, along with wasted inventory.
With over 30 years of experience, our Bakery Advisors will discuss some of the following areas of business with you...
Cost Of Getting Started
How To Raise Capital
Choosing The Correct Equipment
Development Of An Effective Business Plan
Layout & Design
Bakery Product Formulation
Our Unisource Bakery Business Advisors have become a big part of many diversified baking businesses such as Full Bakeries, Bagel Shops, Donut Shops, Bread Shop, Sandwich/Sub Shops, Pizzarias, Cookie Shops, Pastry Shops and Cafes.


Call us today for your FREE advice!
888-443-8782